Being the contractor of choice for our clients to find and develop new mineral deposits
Create wealth for the Brazilian and global community serving our clients and cooperating with our business partners
To achieve our mission, we have a set of goals to deliver:
People: Inspiring each other to be the best we can be by providing a great place to work
Portfolio: Offering to the market a portfolio of top-notch drilling rigs and equipment that fulfill and surpass our clients requirements
Partners: Nurturing a winning network of partners and building mutual loyalty
HESC: Being a responsible player that makes a difference by taking care of the health, environment, safety and communities around us
Profit: Maximizing long-term return to shareholders, while being mindful of our overall responsibilities
Productivity: Being a highly performing, effective, lean and fast-moving organization
Our shared values guide our actions and describe how we behave in the world:
Leadership: The courage to shape a better future
Collaboration: Leverage mutual beneficial relationship with our clients, suppliers and partners
Integrity: Be transparent
Accountability: Be accountable for our actions
Passion: Committed in heart and mind
Diversity: Leverage on each other differences to build a stronger organization
Reliability: Establishing since the beginning a trustful relationship through our hard work respecting clients, employees and the environment
What we do
With our presence in Brazil, we offer all the support needed during the drilling campaign execution.
Rods used are currently from Boart Longyear* and we adopt wireline system with PQ*, HQ* and NQ* rods to drill in soil as in rock. We usually drill in PQ/HQ size at the top and reduce to HQ/NQ diameter just after client approval. Holes can be drilled in PQ, HQ or NQ size, as per client preference. The core samples are stored in core boxes that will be identified to indicate name of the hole and depths referring to the core samples kept in that core box.
Horizonte Mineiro believes in people, our main asset, and invest in hiring and retaining personnel highly qualified and motivated. We have a network on regional and global scale that will allow reaching personnel from around the globe when needed to fulfill clients request. In terms of processes and techniques available at international level. We rely on personnel with experience in diamond drilling, sonic drilling and reverse circulation.
A typical drilling crew consists of the following professionals:
Drillers (per rig)………………………………………………..(2)
Drilling helpers (per rig)……………………………………(4)
Safety technician (per Project)…………………………(up to 1)
Technical/admin supervisor (per project)…………(2)
Drilling Services Execution
Horizonte Mineiro adopts the best drilling technique that allows obtaining the maximum possible core recovery avoiding loss of valuable information for our clients, in particular in the mineralized zone.
On a daily basis, a Horizonte Mineiro prepares a DDR (Daily Drilling Report) to be delivered to the client for review and signature. The DDR is the base for the issuance of the service invoice.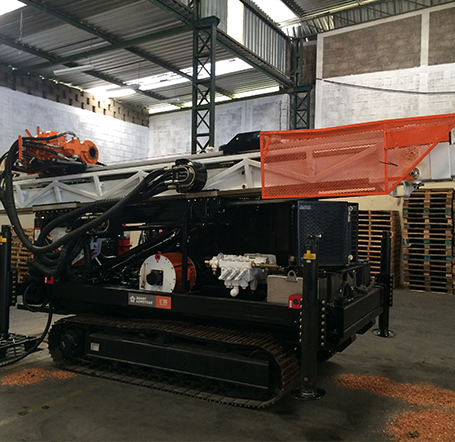 *Boart Longyear and Q are registered trademarks of Boart Longyear.